Paul Bocuse – a name synonymous with French gastronomy. Loved and admired by chefs around the world, Paul Bocuse revolutionized the world of food
He is considered to be one of the key chefs responsible for the movement to nouvelle cuisine in the late 1960s. A type of cooking highlighting the freshness of ingredients and presenting them in intricate and delicate ways. It's a post-war reaction to the rich, hearty, and complicated cooking methods previously established in cuisine classique. 
Considered to be a God among chefs, Bocuse is often referred to as the Pope of French cuisine.
Having been awarded 3 Michelin stars and the honor of Chef of the Century prior to his death in 2018, Paul Bocuse is nothing less than iconic. 
A visit to his hometown of Lyon makes his prestige abundantly clear. Not only is the charming French city home to the now legendary Paul Bocuse restaurant, but it also boasts multiple brasseries, a market, and even a school – Institut Paul Bocuse, all under the Bocuse brand.
His name is everywhere in Lyon. A living tribute to the man that dedicated his life to French cuisine.
With a reputation as the capital of gastronomy, Lyon truly is a food lover's paradise. And dining at Paul Bocuse is the paramount experience.
It's his meal at this restaurant which Anthony Bourdain famously said was a dream come true and his most memorable food experience. To be fair, he was dining with Paul Bocuse himself, but even so, the meal was something magical.
The restaurant itself is its own work of art. Colorful and somewhat bizarre, Paul Bocuse is like the Disneyland of food.
Similarly to how you'd find images of Mickey Mouse at the happiest place on earth, at Paul Bocuse, it's images of the man himself that grace the walls and plates of this Michelin starred establishment. 
The ornate building is bright and ostentatious, providing a feeling as if it's decorated for Christmas.
It's a bit outrageous and totally flamboyant which in part, adds to the theatrics of the experience. 
With options for ordering both a la carte and prix fixe, as first-time visitors, we opted for the Menu Paul Bocuse –  an 8-course selection featuring some of Bocuse's famous dishes. 
Champagne in hand, I admired the kitschy decor and the endless photographs of famous guests as we waited for the amuse-bouche to arrive. 
To begin the meal, we were treated to a taste of a silky cauliflower cream. It came served with a cheese infused flatbread to complement.
Simple, yet delicious. Wetting the palate for the meal to come. 
The first course was a refreshing salad of sorts. A cold gelée topped with perfectly poached lobster, bits of cauliflower, crème fraîche, and caviar.
Being averse to jello, I have to admit that I was hesitant about the gelée, but by the second bite, I was converted.
Truly a lobster dish unlike any I've had before. 
Next, the renowned Soupe aux Truffles V.G.E. A decadent broth-based soup full of black truffles, foie gras, and carrots (because it needs a little veg, ya know?).
The bowl comes topped with puff pastry that's buttery and delicious on its own, but even better dipped into the truffle laden broth.
The puff pastry acts as a lid to the bowl, so once removed, you're treated to the release of truffle-scented steam. 
Bocuse originally created this special soup for the French president, Valéry Giscard D'Estaing, in 1975 and it has been a staple ever since.
It's clear to see why it's famous – who doesn't love truffles, foie gras, and puff pastry?
The fish course is as beautiful as it is delicious. A red mullet fillet is intricately decorated with scales made of crispy potatoes.
It comes served on top of a silky cream sauce that is honestly good enough to drink. Enjoyed with an elegant glass of chilled Sancerre, this course was a highlight. 
Then, to cleanse the palate, we were served a scoop of Beaujolais wine sorbet. Being a lover of both sorbet and Beaujolais, this combination was definitely a treat. 
The icy palate cleanser served as a nice interlude to the pleasantly paced meal.
Ready for more, we finished the sorbet and watched as the suit-laden servers seamlessly moved through the dining room as if service was a well-rehearsed dance. 
The climax of the meal came in the form of a chicken – the Bresse chicken cooked in a bladder à la Mère Fillioux to be exact.
Cooked in a pig's bladder, a whole chicken is poached with slivers of black truffle under its skin.
The chicken filled bladder, which looks like a balloon, gets brought out to the table to be popped and hand-carved table-side. 
I watched in awe as the server went into combat with the innards ballon. He swiftly popped the bladder, lifted the chicken onto a plate, and began carving the animal, showing off his impressive knife skills. 
I couldn't decide what deserved more accolades, his dexterity with the knives or the dish itself.
Although his skills were exceptional, after taking a bite of the chicken, the winner was clear. 
Perfectly moist and with a delicious hint of truffle, the chicken was topped with a creamy sauce with morel mushrooms and served with simple sides of wild rice and steamed vegetables.
Worth the spectacle alone, this chicken is not only the most unique preparation you'll ever see, but it's also the best tasting.
The meal could have ended there and I would have left feeling satisfied and totally content. However, this is the theater of Paul Bocuse, so the show must go on… 
As a lover of cheese, I've enjoyed my fair share of cheese plates and made selections off of a cheese cart or two.
I can now say that there are cheese carts, then there is a Paul Bocuse cheese cart. 
For the next course, carts with over 30 cheeses were neatly arranged by our table for us to make our selections.
While the Comté and fresh cheese with cream looked promising, I had to go for the veiny (and delectably stinky) blue. 
Clearly disappointing the server when I only asked for one, he encouraged me to pick another. He was a pusher and the cheese was the drug.
Succumbing to peer pressure, I picked the St. Marcellin – a local cows milk cheese with a soft texture and nutty taste.
While he looked pleased with my selections, he let the cheese carts linger just in case we needed more like the addicts he hoped we were. And truth be told, if it wasn't for what I saw coming next, I probably would have needed another hit.
In the parade of lavishness and extravagance that is a meal at Paul Bocuse, we finally made it to the pièce de résistance.
Three different carts filled with a variety of sweets and sauces pulled up next to our table. Each dessert looked exquisite, making for a nearly impossible choice to be made.
I opted for a plate of perfectly ripe berries served atop a berry sauce and fresh cream.
Having asked what the woman at the opposite table was eating, the server insisted I try a second dessert.
I seemed to have forgot, only choosing one thing off of the carts is frowned upon, while gluttony is very much celebrated.
He grabbed the white mountain of meringue off the tray and plated it by topping it with fresh cream and warm pralines.
In no position to resist temptation, I happily obliged and lived out the life of a glutton.  
Feeling indulgent in the way I can only imagine guests of Louis XIV had, the meal finally came to a close. Although not before an espresso served with a plate of little cookies, of course. 
We stood to leave and walked by the big open kitchen to watch as the cooks wrapped up service.
Seeing our curiosity, a server invited us to see the wine cellar.
He took us to the back of the restaurant and unlocked the door to a long cave.
Over 14,000 bottles lined the walls of the stone walkway, opening up to a small circular room with red walls and an abstract painting of Paul Bocuse.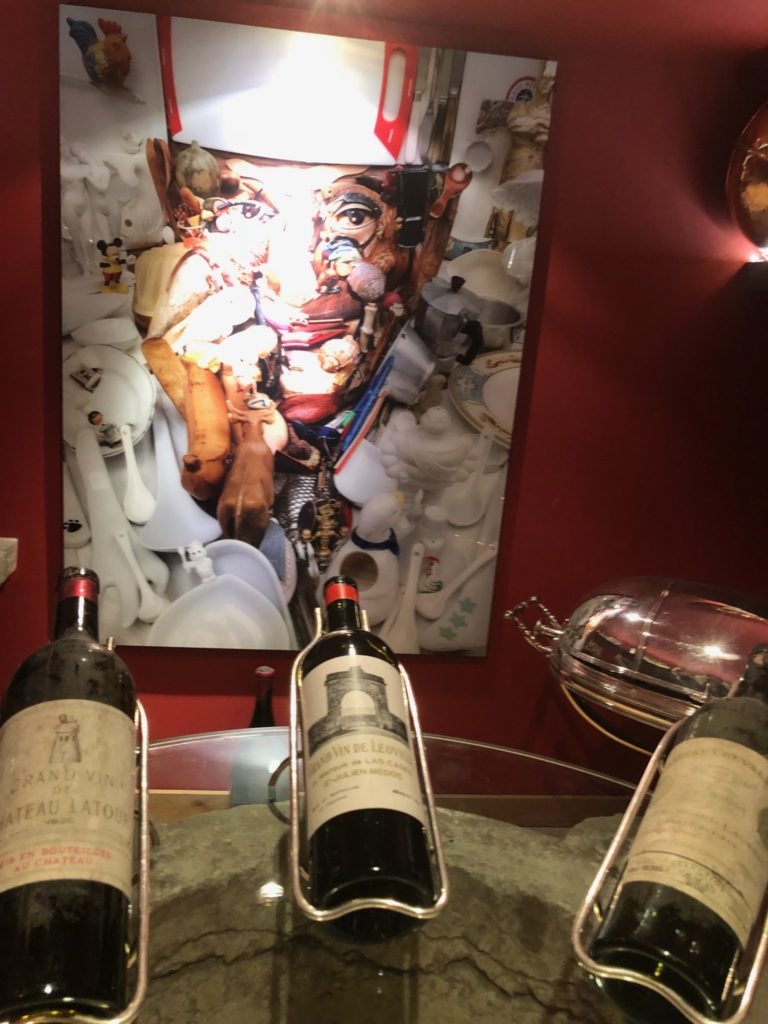 Our experience at Paul Bocuse was as filling as it was lavish.
The food was exquisite and the service was flawless.
The ultimate destination for a taste of France, Paul Bocuse delivers a meal of a lifetime and a true taste of indulgence.
Reservations:
Advance reservations are required. Dinners and weekends are typically the first to fill up, so plan ahead.
During high season (summer and fall), you may need months notice to get your preferred date, while low season may require less notice. Reservations can be made online.
Dress Code:

The dress code is stated as elegant casual wear. Jacket and trousers are required for men. For women, I'd recommend a dress or skirt.
In general, fine dining restaurants are less formal than they used to be, so just be sure to look polished and put together, and you'll be fine.
Timing:
Plan to spend a few hours at the restaurant. It can be a lengthy meal, especially if opting for a tasting menu.
Transportation:
The restaurant is about a 20-minute drive from central Lyon. Ubers and taxis are easy options so you don't have to worry about driving. If you do drive, there is a parking lot.
Menu:
There are options for a la carte or prix fixe (fixed price menu). At a restaurant like this, I always recommend the prix fixe to get the full experience.
Wine:
While they don't offer a set wine pairing, they do have wines by the glass if you'd like to create your own. The sommelier can always help make sense of the wine list if you're not sure what to do.
We started with glasses of champagne and then ordered a bottle of Sancerre. We enjoyed how that paired with the meal, so if feeling overwhelmed, definitely just go for the Sancerre.
Price:
Without wine, the prix fixe menus range from €175-280 per person (about $197-314 USD). Selecting from the a la carte menu could be a bit cheaper depending on your selections.
For two people with wine, expect to pay somewhere in the range of $700-900. Dining at Paul Bocuse isn't cheap, but it's worth it! To get a better idea of pricing, check out the menu online.
Tipping:
While tax and service are said to be included in the price, at this caliber of a restaurant, the service is bound to be stellar. With that said, you should plan to leave extra gratuity to thank the staff.
There is no set rule as to what you should leave, so it's really what you're comfortable with. Some recommend leaving an extra €20-50, while others recommend leaving 10%. Again, do what feels right for you and the experience you had. I'd also recommend having some small bills to tip helpful staff for things like valet or coat check.
Lastly, come hungry!
>> Have you been to Paul Bocuse? Let us know your thoughts in the comments below!