Home to some of the best tomatoes, cheeses, and wines, it's no secret that Italy is one of the greatest places to visit for food.
In a country full of mouth-watering delicacies, however, there's a northern town that really stands out.
And no, it's not Rome or Venice…
I'm talking about the magical city of Modena.
Located in the Emilia-Romagna region of Italy, it's Modena that we can thank for some of Italy's best culinary products.
Balsamic vinegar, lambrusco, prosciutto, and Parmigiano-Reggiano?
Yep, thank Modena!
As it is home to some of the greatest food products in the world, Modena is one of the ultimate places to eat.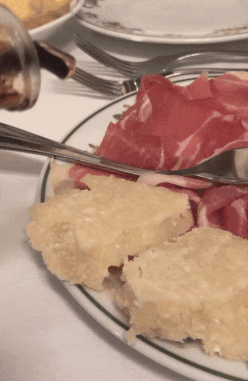 Modena is a much more traditional city. Spending time with family is part of the culture.
This is especially apparent when eating out. Restaurants are always packed with big groups and families enjoying a meal.
In Modena, meals are an occasion, and tradition is valued. You'll find that trattorias often serve the same dishes as one another.
Here, they like what they like – Modenese dishes that are rich in flavor just like Nonna used to do.
Modena is also home to one of the top restaurants in the world, Osteria Francescana.
Osteria Francescana earned the title of Best Restaurant in the World in both 2016 and 2018.
It's also earned three Michelin stars…NBD.
Osteria Francescana pushes the boundaries of tradition.
It's for this reason that for many years, Chef Massimo Bottura was a bit of an outcast.
His fellow Modenese didn't appreciate his avant-garde approach to Italian food.
It's Modena after all, and as we know, Modena values tradition.
Come 5pm (or there about) is one of my favorite times in Modena – Aperitivo time. An aperitivo is a pre-dinner drink and snack that is meant to open up the palate.
You're basically pregaming dinner, so what's not to love about that?!
Bars around town have aperitivo hour where they'll bring you little bites to enjoy free of charge with your drink. Some places will even have buffets set up with snacks to help yourself to while you sip on your apertif.
Apertivo culture is one of the best aspects of Northern Italian cuisine. Be sure not to miss out on this beautiful tradition.
If there was one thing I wish I knew before visiting, it would be to plan dinners in advance.
The best places get filled up, so it's always a good idea to have a reservation. This is especially important if only visiting for a few days.. Better safe than sorry, right?
If you do plan on winging it, try and get to restaurants around the time they open. You'll have a better shot of getting in that way.
To make planning your trip easy, here's the list of all the foodie places to eat, drink, and visit!
Tip: Click the star next to "Modena Glutton Guide" above to view this map on your Google Maps app on your phone.
1
Bar Schiavoni di Fantoni Sara & Chiara S.a.s
For some of the best sandwiches you'll ever have, RUN (don't walk) to Bar Schiavoni. Sisters, Sara and Chiara, create unique combos daily, but come early as options do sell out. If they have the Cotechino sandwich, order it! It's a roasted sausage sandwich with green sauce and balsamic – SO good!
2
Emilia Cremeria
What makes a great gelato shop? When they have not one, but TWO chocolate fountains! Get your delicious gelato in a cone, and you'll get the choice of filling it with milk or dark chocolate. The special touch makes for a cone that's extra tasty till the last bite.
3
Franceschetta58
Referred to as Osteria Francescana's "little cousin", Franceschetta58 is a less formal option from Chef Massimo Bottura. Open for lunch and dinner, diners have the choice of a set menu or a la carte. Must haves: Tortellini in Parmigiano-Reggiano fondue and Torta Sabbiosa (the most perfect crumbly cake ever!)
4

Gelateria K2 Modena

I'm not sure what's better, the gelato or the presentation. Ok, probably the gelato. But, the way they scoop the gelato into the cone makes for a beautiful gelato rose. So that counts for something, right? Come have a taste and see for yourself.
5

Generi Alimentari Da Panino Modena

Craving a lunch of delicious paninos? Come here. The sandwiches are made with quality ingredients and the combos are amazing. If you're lucky, you may even spot Massimo Bottura – rumor is he's a regular.
6
Hosteria Giusti
With only 4 tables, this restaurant is a favorite among celebrities and chefs. It books out weeks in advance, so plan ahead to get a table and taste what many claim to be the best Italian food around. Fun fact: This place will look super familiar to any Master of None fans!
7

L'Or-Ma Crescenterie

Open till 10:30pm, this spot is perfect for lunch or a late-night snack. Yummy little sandwiches made of Modena's famed tigelle bread. Take your pick of fillings ranging from ragu to cold cuts and cheese – you can't go wrong! Our picks: Modenese, and Romagna Mia
8

La Smorfia

When the pizza craving hits, La Smorfia has you covered. Awesome wood-fired pies served up in a giant food hall. It's nothing fancy, but the pizza is good and the beer is cold – what more could you want?
9

Osteria Francescana

A trip to Modena isn't complete without a visit to the restaurant that's held the title of #1 in the world. Make sure and plan ahead by 3 months though, or snagging a table may be hard. Cancellations do happen though, so there's always hope if you can't get a table.
10

Ristorante Carducci

As one of the few places that have online reservations, head here for the gnocchi parmigiano with a sauce made of grappa and truffles. For dessert, the balsamic semifreddo.
11

Ristorante da Danilo

Friendly staff and delicious food. Great spot to try traditional dishes like: tortellini in brodo, gramigna, and bollito misto. Ask for recommendations and you won't be disappointed.
12

Ristorante da Enzo

Ristorante da Enzo specializes in homestyle cooking that showcases the cuisine of Modena. The freshly made pastas are absolutely delicious – definitely the thing to get. Be sure to pair it with lambrusco, of course!
13

Trattoria Aldina

For a traditional Modenese lunch, head to Aldina. People line up right at noon to get a table. There's no menu, servers just recite whatever they've made for the day. It's homey and delicious. Heads up: The restaurant is located on the second floor and they only take cash or Italian debit cards.
14

Trattoria Da Omer

Local spot serving seasonal Modenese cuisine. Order specialties from the chalkboard like: Tagliatella Ubriacha (pasta cooked in red wine and topped with prosciutto and parmigiano). And if the special happens to be lasagna, be sure to order it. Some of the best ever!
15

Trattoria Il Fantino

This place quickly became a favorite due to awesome food and the friendliest staff. Make reservations and cross your fingers that they're serving gramigna that day. It's some of the best! The tigelle and gnoccho fritto is also delish, as are the lambrusco cooked ribs and potatoes. Bonus: Bottles of Nocino and Limoncello are brought to your table to end the meal.
16

Trattoria Tagliatella

Small trattoria that's great for sampling traditional dishes. Highly recommend the Ricco antipasti, Le Tagliatelle al Ragu, Gramigna Salsiccia e Panna, Puntine, and Patate. Or you could do one of their set menu options for 30-35€.
17

Vecchia Pirri

Vecchia Pirri is usually filled with locals eating homemade pasta and wood-fire oven pizzas. The scallopini covered in a sauce of parmigiano or the filet covered in aceito balsamico are also popular. No matter what you choose, jugs of house wine or pints of cold beer flow freely!
1

Bar Manà Modena

Fair warning: The service is SLOW. But honestly, the apertifs are good (especially the aperol spritz made with lambrusco!) and the bites during aperitivo hour are yummy. Come early to grab a seat outside and beat the rush.
2

Birreria – Al Goblet

Local brewery serving up their artisan brews on draft. They have quite a selection, so there's something for all beer tastes. Simple menu too, but honestly, at a place like this, you're coming for the beer!
3

BO.EM Bottega Enoteca Modenese

Stop by BO.EM for an aperitivo. The outside seating makes for a great spot for a nice glass of lambrusco. Bonus: They serve delicious little sandwiches made of tigelle and cold cuts and cheese.
4

Cotton Club

Modena's first (and only?) speakeasy. They put on live music weekly with table seating only – no standing room – which only adds to the intimate and comfy setting. You technically need a special card to enter, but contact them about booking a table.
5

FM23 Beerstrò

This place holds a special place in my heart. The staff is so fun and they play good music (old school hip-hop makes beer taste better – it's a fact). It gets super crowded at night, so people just hang out in the street outside. Oh, and they have a great rotation of beers.
6

L'Archivio

While I can only comment on the aperitivo at L'Archivo, I do recommend stopping in for a drink. Nice wines, cold Spritzes, and a generous board of snacks to graze on while imbibing. They also have a nice outdoor seating area which makes for solid people watching.
7

La Lambruscheria

Curious about lambrusco? Stop by this tiny shop to taste a few and enjoy a glass of local fizzy wine. There's not too much seating, but it's worth a visit for sampling and picking up a bottle or two.
8

Labeerinto Gate 31

Local Modena brewery with two locations in the city – Gate48 and Gate31. Stop by for a pint and taste your way through their selection of solid beers.
9

Labeerinto Gate48

Local Modena brewery with two locations in the city – Gate48 and Gate31. Stop by for a pint and taste your way through their selection of solid beers.
10

Slanzi Pub & Vinyl

Slanzi is one of my favorite bars in Modena! Super chill vibe thanks to friendly staff and records spinning. As far as drinks? They've got craft beer on draft plus a full bar. A great spot for an evening drink.
11

The Bike – Coffee & Meats

Great little bar serving up coffee by day and cold drinks by the evening. They put out a nice spread for aperitivos (read: worth a visit!), but you'll probably still want to order their tempting selections of charcuterie and cheese.
12

The Picari Wine Bar Restaurant

Picari does aperitivos right. Stop by in the early evening to get a drink (I recommend an aperol spritz) and help yourself to the buffet of snacks they've laid out. Grab a seat outside and enjoy what aperitivo hour is all about.
1

Acetaia di Giorgio

With a convenient location just 25 min by foot outside of the city center, Acetaia di Giorgio is where to go to get the full balsamic experience in Modena. Get to know the Barbieri family's prized products made in their house that dates back to 1870. Plan ahead and book a visit directly from their website
2

Mercato Albinelli

Operating since 1931, Mercato Albinelli is a historic place to shop for produce and ingredients in the center of town. Walk through the market and admire the fresh pasta, parmesan, and veggies. PRO TIP: Make a pitstop here for a glass of Lambrusco before or after lunch at nearby Trattoria Aldina or Bar Schiavoni.
2

Cantina Estense

A little shop specializing in local gourmet products. Stop by to stock up on: high quality balsamic vinegar, wine, olive oil, and Italian liquors. Need quality souvenirs for your foodie friends and family? This spot is for you!
4

La Consorteria 1966

It's at La Consorteria where Phil (from Netflix's Somebody Feed Phil) famously tastes liquid gold (aka the really really good stuff of the balsamic world). Stop by this little shop to sample and buy some of Modena's best balsamic vinegars.
>>Have you been to Modena? What were your favorite spots? Comment below!