Although most people are unknowingly familiar with exports from Modena, few actually know the city.
The charming northern Italian town has managed to stay relatively under the radar, even while being the birthplace of such prominent brand names and products.
For example, we've all heard of Ferrari and Lamborghini, but did you know we can thank Modena for them?
In 2010, however, Modena became well-known in the food world after Osteria Francescana earned a spot in The World's 50 Best Restaurants list.
Since then, it has managed to secure the number one spot twice – once in 2016 and once again in 2018. In 2017, while it didn't hold on to the number one spot, it did manage to rank as number two.
With a restaurant once holding the title of Best Restaurant in the World, you'd think that the city of Modena would be overrun by tourists.
Thankfully, it's not. Similarly to Osteria Francescana, Modena is small and pretty low-key. It's a city steeped in tradition and the food is some of the best in the world.
Located in the Emilia-Romagna region of Italy, Modena and the surrounding area are considered home to some of the most popular Italian culinary products.
Food runs through the veins of the Modenese, and for this reason alone, any food lover needs to experience the culture of Modena.
The Modenese are big on tradition. Most everywhere you go in the city, you'll find good food done in a traditional way.
Dining out is a way of life here. For a small city, there are a ton of restaurants. Even with so many options, however, you'll find reservations are almost always recommended.
To sample the best of what the Emilia-Romagna region has to offer, here are the foods that every visitor to Modena needs to try: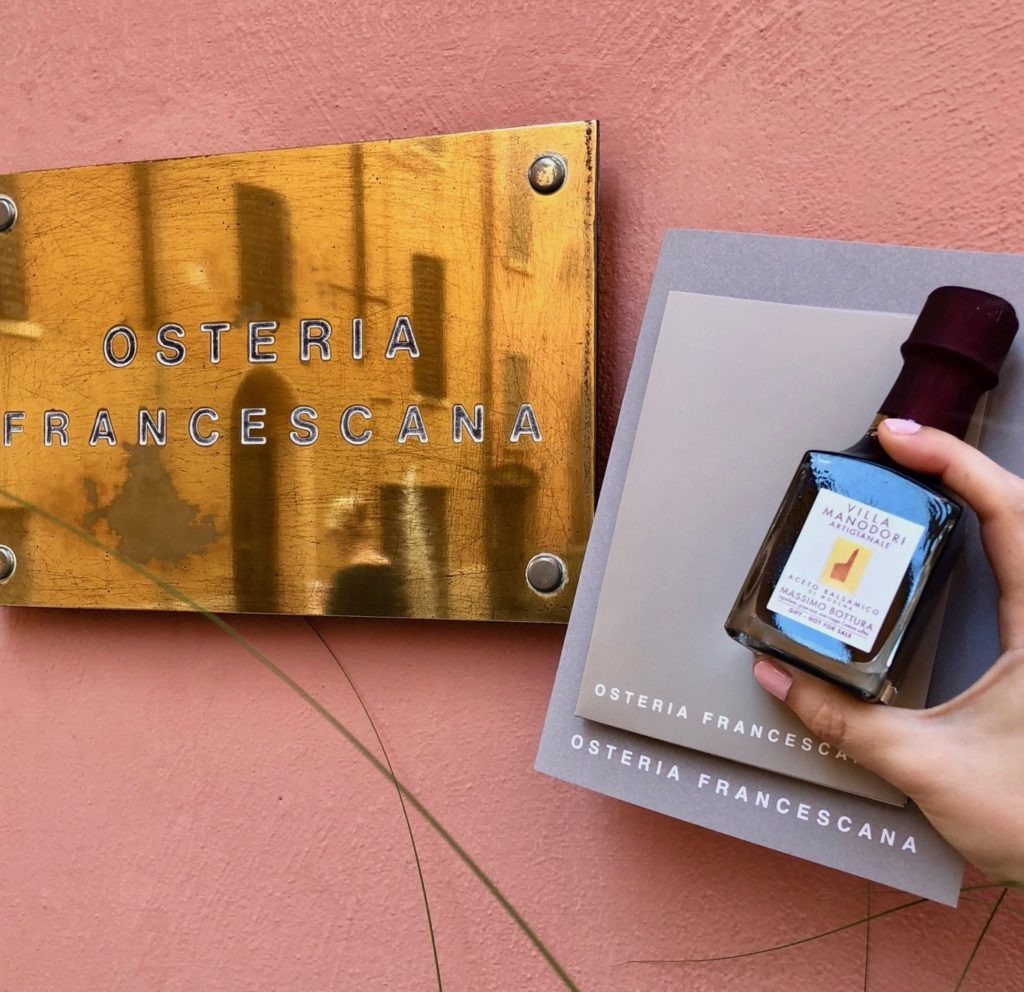 Like with many Italian specialties, there are specific rules and regulations to protect the standards of authentic balsamic vinegar.
To make authentic balsamic vinegar, grape must of Lambrusco or Trebbiano grapes is cooked down and reduced. Then, the reduction is left to ferment and then further aged in small barrels.
According to the regulations, balsamic vinegar must be aged at least 12 years, but the high-end vinegars are aged at least 25 years.
Prices of authentic balsamic vinegar of Modena can vary greatly with some small bottles costing $100-200 USD.
To make sure you're getting the real deal, the label must say Aceto Balsamico di Modena IGP. The IGP (protected geographical indication) label is what guarantees where the balsamic is from. This label ensures that you're getting the highest standard of balsamic.
You'll notice that Aceto Balsamico di Modena IGP is dark, smooth, and syrupy. A more complex version of balsamic vinegar than what we normally think of.
While prosciutto is a common ingredient throughout Italy, Prosciutto di Modena, is particularly special.
To recognize and maintain the standard of this particular style of prosciutto, Prosciutto di Modena received a Protected Designation of Origin. This means that very specific standards and regulations must be met in order for a prosciutto to be deemed a Prosciutto di Modena.
For starters, the animals must be born, raised, and slaughtered in the region. Prior to curing, the thighs are trimmed into a pear shape by removing excess fat. They then go through a salting process and are left to rest for 70 days in a regulated climate.
After the 70 days, the thighs are washed and dried before going through a seasoning process where they are covered with lard, flour, salt, and spices. The thighs remain in the seasoning phase for at least 14 months.
The end result is a delicate ham that's sweet, salty, and full of flavor.
To be called Parmigiano-Reggiano, it must be made within a precise 10,000 sq. km geographical area. If it's not made in this exact region, it can't be called Parmigiano-Reggiano.
This hard cheese is made with only 3 very specific ingredients – milk from the region, salt, and rennet.
Aged for a minimum of 12 months and up to 36 months, Parmigiano-Reggiano is often called "The King of Cheeses".
It's salty, sweet, nutty, and sharp, and depending on the age, it's texture can vary from hard to crystalized and grainy.
A vital ingredient at all points of the meal in Modena, Parmigiano-Reggiano is a staple in the region's cuisine.
To try the cheese in a particularly Modenese way, enjoy chucks of aged Parmigiano-Reggiano topped with a few drops of local balsamic vinegar.
Gnocco fritto are one of Modena's special foods. They're a simple bread-like treat made of flour, water, and lard. Once cooked, the gnocco puff up to create little pillows of a crazy delicious snack.
Gnocco fritto are as versatile as they are delicious. That means that you can find them served at all times of the day.
For breakfast, gnocco fritto are commonly enjoyed alongside a cappuccino.
In the evening, they'll be served alongside salumi, providing the perfect vehicle to enjoy the cured meats of the region.
It doesn't get much better than a prosciutto topped gnocco fritto, trust me!
Tigelle (ti-jeh-le) are just another one of Modena's amazing takes on bread.
These flat, round discs of dough are typically cut in half and filled with cured meats or pesto Modenese.
Sometimes called crescentine, this Modenese flatbread is slightly crisp on the outside and soft on the inside.
Served warm, tigelle are a wonderful complement to the famous cured meats of the region.
While the bread is most commonly referred to as tigelle, the word tigelle actually refers to the clay molds in which the bread is made. 
While the name of this specialty may make you think of the popular Italian sauce made of basil and olive oil, pesto Modenese is more like the heartier, fattier version.
Made of lard, garlic, and rosemary, pesto Modenese is a thick spread that is served alongside tigelle.
Once the creamy mixture is slathered onto a warm tigelle, the lard begins to melt, bringing out the aromas of the garlic and rosemary.
The spread is given a nice sprinkle of Parmigiano-Reggiano, resulting in a satisfying  sandwich of warm tigelle filled with creamy and aromatic pesto Modenese and a touch of nuttiness from the sprinkle of cheese.
While it's out for debate whether tortellini originated in Modena or Bologna, you'll be hard pressed not to find tortellini on most menus in Modena.
These tiny little hat-shaped dumplings are made of egg pasta stuffed with meat. The meat filling will vary based on family recipes, but pork, mortadella, and prosciutto are common.
To complement the hearty meat filling, the tortellini are often served in a clarified chicken broth and sprinkled with Parmigiano-Reggiano. This dish, known as tortellini en brodo (tortellini in broth), is a Modenese staple that is enjoyed as a first course.
Tortelloni on the other hand, is a bigger version of the tortellini. Since it's a bigger dumpling, tortelloni is usually filled with milder ingredients such as ricotta cheese. 
While tortellini is most commonly served in a broth, tortelloni is usually served with a sauce such as butter and sage.
Rarely seen outside of the region, gramigna is a short, squiggly, hollow noodle.
It's typically made into a delicious pasta dish called gramigna alla salsiccia with sausage, tomatoes, and cream. This decadent dish, quickly became a favorite, and is luckily commonly found in local trattorias.
Despite the hollow center, when cooked al dente, gramigna has the mouth feel similar to a bucatini noodle. Its short length and squiggly shape provides the perfect vehicle for the creamy, rich sauce.
While the gramigna noodle was originally only available as a fresh noodle, you can now find dry varieties sold in the market. 
Referred to as tagliatelle alla Bolognese in most of the world, in Modena, it's called tagliatelle al ragu.
Bolognese sauce is named for the neighboring city of Bologna where it originated, but this traditional meat sauce is very common in Modena as well.
While this iconic dish is popular around the world, trying it in the region from where it comes is something special. 
Tagliatelle, which also originated in the region, is a flat, ribbon-like noodle made of flour and egg. Once cooked to al-dente, the noodles are tossed in the ragu.
As with most traditional dishes of the region, the recipes vary slightly depending on who's making it.
Most often, the ragu will be a mix of onion, garlic, carrot, celery, ground meat (like veal, pork, and beef), wine, and tomatoes. The mixture then simmers over a long period of time to cook and reduce.
The end product is a hearty and delicious meat sauce that pairs perfectly with the tagliatelle.
Lambrusco may just be Italy's most underrated wine. Made from the Lambrusco grape, the wine is fizzy and versatile.
Coming in a variety of styles from dry to sweet, there's surely a Lambrusco to suit most palates. 
Usually under 12% ABV, Lambrusco tends to fall on the lower end of the alcohol spectrum.
In Modena, Lambrusco is the wine of choice when it comes to mealtimes. The fruitiness and fizz are thought to balance out the foods of the region which tend to have a higher fat content.
Locals tend to pair Lambrusco with prosciutto, Parmigiano-Reggiano, and, of course, pasta.
Nocino (pronounced no-chee-no) is a special liqueur enjoyed throughout Modena.
Made from walnuts steeped in alcohol and sugar, this dark brown spirit is typically served as a digestive after a meal.
Nocino is rich and sweet with a hint of spice. It packs a punch and is much stronger than the taste suggests.
Although small in size, Modena is big in flavors. It's a city that loves food and they take it seriously. It's easy to understand the deep respect they have for their traditional cuisine. It's absolutely delicious!
If in Italy, be sure to pay this charming place a visit. Your tastebuds will thank you!
>> What are your favorite Modenese treats?